The other day when I was with my dad in Coles, they had small recipe books out the front for Christmas baking - yum! I love baking and making new stuff so I decided to make one of the recipes in the booklet. Here's how they turned out, I have also included the recipe.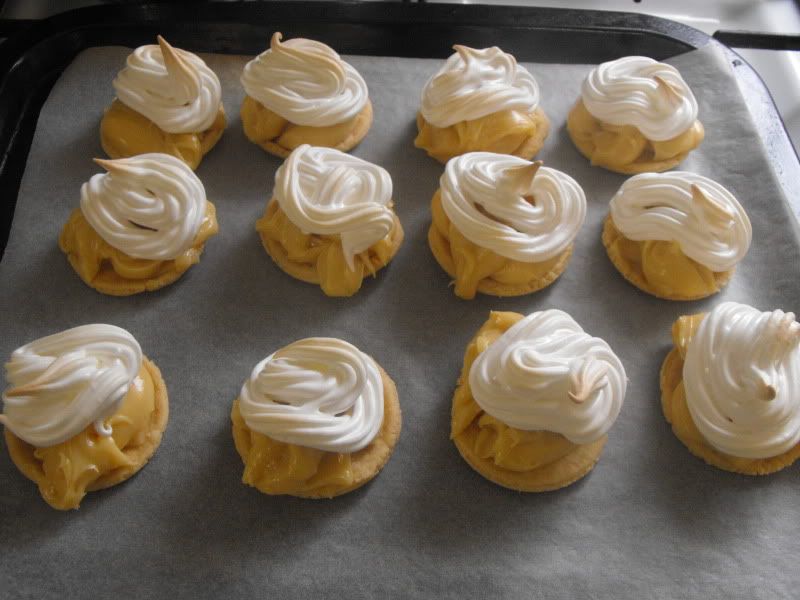 Ingredients
For Pastry
1 cup of plain flour
80g of butter, diced
1-2 tablespoons of water
For Caramel
1 can (375g) of sweetened condensed milk
2 tablespoons of golden syrup
50g of butter
For Meringue
2 egg whites
1/2 cup of caster sugar
Method
Preheat oven to 180 degrees C. Grease a 12-hole patty pan. (When I made mine, I just used a 12 hole muffin tin) To make the pastry, sift flour in a large bowl and add the butter. Rub the butter into the flour with your fingertips until the mixture starts to resemble breadcrumbs. Add water a tablespoon at a time (you might not need 2, only 1), until the mixture comes together. Turn out the mix onto a lightly floured surface and need lightly. Roll out the dough until it's about 3mm thick. Cut out small circles (I actually used the top of my 1/2 cup measuring cup haha) and place circles into prepared pan. So if you're using a muffin tin, just make sure the circles are sitting at the bottom. Prick the bases with a fork and chill in the fridge for 10 minutes. Bake for about 15 minutes, until lightly golden.
In a medium saucepan, combine the ingredients for the caramel. Cook while continuously stirring on a low heat for 8-10 minutes or until golden and thick. Watch out that you don't burn the caramel as it won't taste very pleasant! I usually cook mine till it gets nice and thick so it scrapes away from the pan nicely and holds it shape. Top the caramel onto the cooked bases
In a large clean bowl, beat the egg whites until soft peaks start to form. Slowly add the sugar, while still beating the egg whites. When all the sugar is added beat well until the mixture is thick and glossy. Using a piping bag (if you don't have one just spoon it on), pipe the meringue mixture on top of the caramel (make sure it's cool) then pop them back into the oven for another 8 minutes. Have the oven around a low temp - 140 degrees should be good. When they have started to slightly colour, turn off the oven and allow the meringues to cool in there (especially on rainy days when there's more moisture in the air). Most of the tips about the meringues wasn't added to the booklet so I looked up a recipe for them.